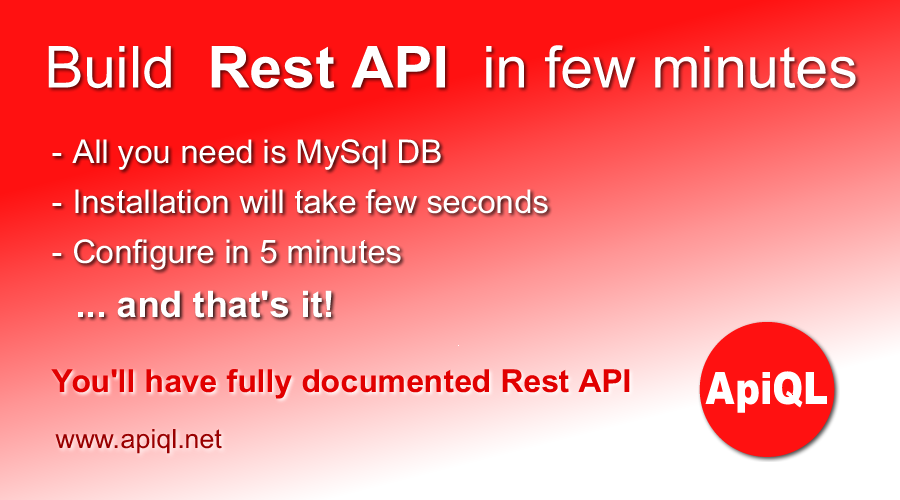 ApiQL project
Documentation

*generated by ApiQL.net
Last updated: 08:36:03 | 01.12.2023
This is an demo project of the ApiQL.net application.
The advantage of using this application is to build rest API (including documentation) for your existing MySQL database.

..and YES! ONLY in few minutes!!!
---
ApiQL project is using ApiQL.net Rest API builder to provide fast, secure and reliable Rest API.
ApiQL.net is powerful and simple translation of SQL queries into Rest API and come's together with dynamic PHP-sdk client.
Why ApiQL.net?
There are a lot advantages why you should use ApiQL.net.
Advantages:
Simple and intuitive sintax
Minimum system requirements
Flexible to use multiple tables on same API call (using views)
Converts automatically all tables and views into endpoints
Reliable and secure
Ready documentation for your api project
Easy configure call methods (enable/disable)
100% controll which tables and views can have endpoints
Unset specific or sensitive fields
System Requirements
Enjoy our minimal system requirements. You can start ApiQL.net even on shared hosting.
PHP version 5.6 or newer is recommended
MySQL version 5.6 or greater OR MariaDB version 10.1 or greater.
ApiQL-SDK client
The ApiQL.net library includes dynamic PHP-sdk client, so if your client is based on PHP, you'll be able to use service on easiest way ever!
If you decide to use this sdk library, you can download here.